Thin plot in this dream. The birds were the real focus. The setting was a nondescript suburban park that seamlessly evolved into my parents' semi-rural, New England, backyard.
I was leading a field trip for other birders wanting to lead field trips. Actually, it was more like a birding "boot camp". Sorry... no fatigues, shaved heads, screaming while spitting on people, or KP duty. There was fast-paced, high-intensity, "extreme" birding though.
Northern Cardinal (
Cardinalis cardinalis

)
Most species were seen right after the other. A wonky, somewhat yellowish female Northern Cardinal was hopping around in a tree near where we started. A small flock of Rock Pigeon shooshed low overhead, in their usual hurry.
Rock Pigeon (Colomba livia)
Just thirty or so feet away, a Blue Jay sat perched scoping out the landscape. In between was a very small reedy pool; a Great Blue Heron stood sentinel.
Blue Jay (Cyanocitta cristata)
Great Blue Heron (
Ardea herodias
)
The group made its way towards the jay, hanging a hard left just before its tree. We were then headed around the back of my parents' garage. A row of tall shrubbery behind it, that doesn't exist in reality, formed an alley. Noticing movement in the greenery prompted our attention. Here we found a few each of Tufted Titmouse and Cedar Waxwing.
Tufted Titmouse (Baeolophus bilcolor)
Cedar Waxwing (Bombycilla cedrorum)
Green Parakeet (Aratinga holochlora)
We filed through to the other side of the alleyway. Immediately to our left, hanging over and knawing on the edge of the roof, was a pair of Green Parakeet. Everybody got a kick out of this impishness. We weren't entertained long before we heard the tell-tale call of a Summer Tanager above and behind us. Sure enough when we turned an immature male was calling high in one of the trees in the neighbor's yard.
Summer Tanager (Piranga rubra) - immature male
We then followed the tree line between the two properties back toward the neighborhood road. When we arrived at the last tree, a tall Norway Spruce, we encountered an aggressive male Broad-tailed Hummingbird
- replete with high-pitched wing twitter. His swooping flight pattern told me he was acting territorially. Very cool!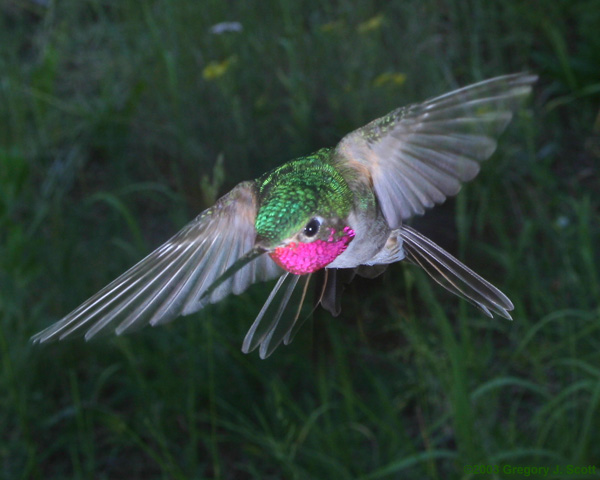 Broad-tailed Hummingbird (
Selasphorus platycercus)
Photo Copyright 2003 - Greg Scott
The very end was really cool, reminding me of probably the most fantastical bird dream I've ever experienced. That dream will receive a post soon. In this "grande finale", we witnessed tens of thousands of myriad birds soar overhead as a contiguous group. They then descended in long lazy spirals, before continuing low to the south. Most were unidentifiable, but it was clear they were of all shapes, sizes and species. One memorable oddity: all were grass green in color. Generic family groups I could ID were true owls (
Strigidae
), true parrots (
Psittacidae
), buteo hawks (
Acciptridae
) and some larger sandpipers (
Scolopacidae
). F
amily names are linked to their respective Wikipedia entries
.